As you can imagine I get a lot of well intended advice at this point on my journey. Most notably "try not to worry". That flies off the tip of peoples tongues without a hesitation of what they are actually saying. Worry by definition is "a worried condition or feeling; uneasiness or anxiety". Anxiety by definition is "distress or uneasiness of mind caused by fear of danger or misfortune". I am going to go out on a limb here and say that feeling unease about the fear of brain cancer or the the fear of neurological complications from surgery would not be unwarranted. Actually, I wonder how someone would be given a diagnosis of a rare brain tumor and not worry, not be fearful? Sometimes it's hard not feel like this guy below, like my worst nightmare has happened and now I'm just waiting to be eaten up and swallowed whole.

Other times, I don't feel anxious at all. I feel super optimistic, I feel like "I've got this". Some days I am panicky for reasons I can't even put into words, it's just a bad day.
Anxiety stems from the fear of the unknown and that is the landscape that I am negotiating right now, the unknown. This could go a few different ways. I could have surgery, recover perfectly and have a wonderful story to share about my new life perspective, or it could have a few more bumps in the road, bumps that I cannot predict, maybe bumps that never get smoothed out. That is the worry, events and circumstances that I have zero control over.
I know people have good intentions when they tell me not to worry, they are too are worried, they are concerned over both my physical and mental health, but when I hear this I always conjure up in my mind the meme below.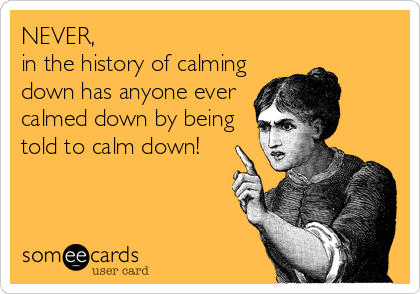 It's the same concept for worrying. Telling me stop doesn't help me to not do it. But what does help is having an outlet, like writing this blog, going out for tea/coffee, joining me on a hike, being an ear for me if I'm having a bad day. Worry is just another part of the process, I can't stop it, I can't completely control it so I oscillate between avoiding the fear and confronting it.
Yesterday a friend brought me lunch and along with it a very small bag. When I opened it what I found inside were 10 tiny worry dolls. This friend is a cancer survivor and said to me you need somewhere to put your worries so give them to these little dolls each night.

No one can take the pain and stress of this journey away, all you can do is walk along side someone as they learn to navigate this terrain for themselves, and I cannot express how grateful I am for all the people in my life who are walking alongside me.

We scheduled our second opinion visit to New York Presbyterian Columbia/Cornell for February 4th. We will meet with a neuro oncologist and neuro surgeon who has experience with this rare type of ventricle surgery.